The next meeting of the Harbourside Liquor Accord Inc is scheduled for
10am Wednesday 15 June 2022
Venue: TBA
Please contact the Accord Manager if you would like to include an item on the meeting Agenda or would like to attend future meetings.
2022 Meetings
10am Wednesday 16 February 2022. 30 March, Kirribilli Club
10am Wednesday 15 June 2022
10am Wednesday 19 October 2022: Meeting & Annual General Meeting
Venues will be advised approx 2 weeks prior to meeting
Notice of meetings with the agenda will be sent to all financial members and associates.
NEWS AND ALERTS
01.03.22 Congratulations to committee member, Damien Montgomery, The Firehouse Hotel, undertaking the Tour de Cure ride to raise funds for cancer research and assistance for cancer patients. The accord has donated to the fundraising on behalf of members
17.05 21 Membership for 2021/22 is now available. Join in May-June 2021 to receive membership coverage through to 30 June 2022
15.06.20 We welcome Commander Supt Jenny Scholz as the new commander for North Shore Area Police Command. 
21.10.19 At the October meeting, North Sydney Council advised of changes to NYE arrangements in the area. Please refer to Council website for specific details.
24.09.18 Cmdr Supt Allan Sicard of North Shore Local Area Command,requested that accord members consider ways that they could proactively address the issue of sexual assault in the community. At the June meeting it was decided that the October meeting would include a training/awareness session, delivered by NSW Police, to provide licensees, managers and staff with the skills to identify key triggers and behaviours, implement plans and other resources to wherever possible, prevent the incidence of sexual assault. Please don't miss the October meeting and bring your managers to utilise the session as a 'train the trainer' style session. 
13.08.18 On the instigation of Cmdr Supt Allan Sicard of North Shore Local Area Command, licensed premises in the Willoughby/Artarmon and Chatswood/Lane Cove accords will now join with Harbourside Liquor Accord. Thanks to Snr Const Brad Duke for his work in discussions with all parties to make this happen. The outcome will be a much larger, stronger and most importantly effective liquor accord.
21.06.18 Members extend vote of thanks to Martin Boffey, Kirribilli Club, who has stood down from the position of Public Officer, due to his impending resignation fro Kirribillii Club. Martin's involvement in the accord over many years has been greatly appreciated and we wish him well for his future.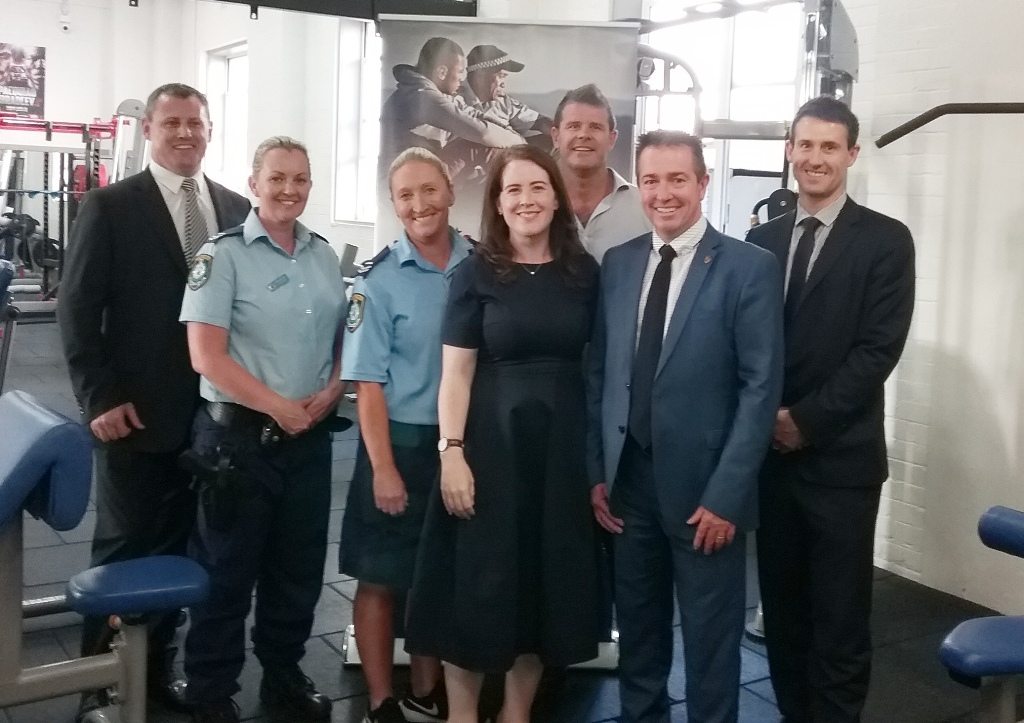 05.02.18
After attending our 'cheque presentation' at PCYC with Hon Paul Toole and accord and PCYC representatives, Member for North Shore, Felicity Wilson MP expressed interest in the activities of the accord and will be attending the 21 Feb 2018 meeting to meet the members. 
06.12.17
The Hon. Paul Toole, Minister for Liquor and Gaming, showed his support for the significant donation made by the Harbourside Liquor Accord towards the work of the PCYC North Sydney in assisting troubled youth on Sydney's lower north shore by attending the cheque presentation with accord President Peter Calligeros and Treasurer Luke Simmons and PCYC Youth Case Manager, Snr Cons Jodie Young.
The $3000 donation, initiated by accord members at their recent meeting is in line with the accord's approach to targeting youth-based initiatives in their local area.
Accord President, Peter Calligeros, said the accord was especially impressed with the strategic and targeted nature of the PCYC programs, which were in line with the accord's preventative approach and thinking. The funds will be specifically channelled to two key strategies:
Case Management – One on One case management of troubled youth through Police NSW Youth Command who work at the club.
Fresh Start – A Bootcamp style program targeting truancy within the lower north shore. The aim of the program is to teach youth the benefits of a healthy lifestyle, through fitness, nutrition and hygiene. This allows them to start the day with the right frame of mind for their schooling.  
Felicity Wilson MP, Member for North Shore and other accord members were also present at the occasion. 
19.10.17 Congratulations to our member, Ormeggio at The Spit for being awarded 2 Hats in Good Food Guide 2017 Awards!!
19.10.17 Thanks to all who attended yesterday's meetings - especially great presentations from John Green, AHA (NSW), Erin O'Brien Liquor & Gaming and others. Loads of resources provided to members in the minutes.
21.06.17 The accord is supporting the NSW Police Sexual Assault campaign and posters are available for members to display in the premises. Posters are available from North Sydney Police Licensing 
04.06.17 Liquor & Gaming representatives will be addressing the June meeting - great opportunity to get clarification recent and upcoming changes to liquor regulations and legislation
01.05.17 The April e-news from Liquor & Gaming has been forwarded to members and please note the new web address for the department. www.liquorandgaming.nsw.gov.au
19.02.17 Unfortunately John Green was a last minute apology as guest speaker at our 15/02 meeting but we thank Chris Gatfield, Manager Policy, AHA (NSW) for giving a very informative presentation to members on the recent changes to liquor licenses and an over of the Container Deposit Scheme
25.01.17 John Green from AHA (NSW) will be our guest speaker at Feb meeting and a must-attend for all members. John is across all the recent and ongoing changes to licenses and compliance issues and delivers an excellent and informative presentation.
23.10.16 Thanks to all who attended our October meeting and to Transport NSW for the informative presentation on the Metro project and Sgt Smith for the presentation ofn drink spiking and sexual assault.
Plan B campaign is due to launch shortly, members can contact Rebecca Thomas at Mosman Council to order free resources including posters and bottle bags
26.09.16 Next meeting will be held at Norths Leagues, Weds 19 October 2016. We have arranged for a speaker from Transport NSW to give a presentation on Metro project so members will be informed of impact of construction on the area over the coming months and years.
24.05.16 Representatives from Liquor & Gaming NSW will address the meeting on 15/06/16. Notice of meeting and agenda has been sent, if you wish to receive a copy contact Accord sect 
01.03.16 At the 17/02/16 meeting a resolution was passed to include a Dissolution clause in the accord's constitution. This amendment has been made and an updated copy of the constitution is available on the About Us page of this website
18.02.16 Thank you to all who attended yesterday's meeting - good attendance and great discussion!
02.11.15 North Sydney Council has issued revised maps of alcohol free zones. Contact accord secretary for copies of these maps
02.11.15 Members can order FOC images, posters and other materials for Plan B campaign from North Sydney Council and Mosman Council. For specific contact please contact accord secretary for details
06.10.15 Notice of meeting and AGM has been sent
05.10.15 Stop the Supply Campaign has commenced with advertising on trains throughout the north shore. Police and council will be distributing posters and bottlebags to key venues. Those who do not receive, can visit North Sydney Police Station to collect or you can contact accord sect to have poster artwork emailed to you to print your own posters.
31.08.15 Members are invited to submit comments on the Point to Point Transport Taskforce Discussion Paper. Details have been emailed to members. For further information contact accord secretary
23.08.15 Members are invited to an OLGR Workshop in October. Please contact secretary for details.
01.06.15 Notice of June meeting has now been emailed. This is a full agenda with sensational presentations regarding changes to smoking laws.
23.03.15 Changes to smoking laws come into effect 6 July 2015. Ensure you are compliant, check at www.olgr.nsw.gov.au
A representative from Health NSW Tobacco Compliance Unit will be presenting to members at the June meeting. Join your accord now & attend the meeting for this valuable presentation.
19.01.15 Amendments to Liquor Legislation come into effect early in 2015. Licensees need to be up to date with these changes. For information, go to www.olgr.nsw.gov.au
04.01.15 Mosman Council Drink Drive Campaign materials are now available to members. Resources are free of charge. Pls contact Rebecca Thomas at Mosman Council for posters, coasters, bottle bags etc
17.11.14 OLGR will have limited operations from Weds 24 Dec through to Fri 2 Jan. The customer service counter at Castlereagh St will be closed from 5pm Tues 23 Dec and reopen 9am Mon 5 Jan. Applications for functions/events over Christmas and up to 11 Jan should be lodged by 28 Nov
Click here to download the complete OLGR email with all the details
19.10.14 Mosman & North Sydney Councils are operating a drink drive campaign, Plan B. Free resources are available to licensed premises and be acquired via the online application form at www.mosman.nsw.gov.au or www.northsydney.nsw.gov.au or call the Road Safety Officer at the relevant council for your area.
30.09.14 The NSW Government's 'Stop Before it Gets Ugly' campaign to tackle alcohol fuelled violence has been launched.
Details at http://www.nsw.gov.au/stopbeforeitgetsugly

29.09.14 Notices of October meeting and AGM have been emailed to members, non-members and associates. Members have also been emailed copy of the annual accounts and financial statements. If a member did not receive these, they can be downloaded in the Member Portal
Click here to Download Notice of October Meeting
Click here to download Notice of AGM
 29.09.14 OLGR's 'Stop Before it Gets Ugly' campaign launches today. Information and resources to include in your advertising have been received by Secretary and distributed to members. If you require info please phone Lyndall 0414 681 177
14.07.14 Minutes of the 9 July meeting have now been emailed to financial members. If you did not receive your copy you can download in the members portal
16.06.14 Notice of 9 July Meeting has been emailed to members
Click here to download notice
29.05.14 June meeting is now postponed to 9 July to allow everyone to fully review the draft DCP
29.05.14 Membership Fee renewal deu 1 July. Invoices will be emailed to financial members   
19.05.14 The late night trading draft DCP has been delayed to a 20 June release. Financial members will be advised of the link to review the documentation. Due to this delay, our scheduled 18 June meeting will be postponed until a date in July.

13.05.14 The Nth Sydney Council draft late night trading DCP is due to be released on the council website later this week.
Browse www.northsydney.nsw.gov.au to review
25.02.14 Downloads from the OLGR website are now available for 'No Takeaway After 10pm'
In-venue Screen Display  http://dev202.visitnsw.com.au/images/InVenueScreenDisplay_10pm.jpg
Poster  http://www.olgr.nsw.gov.au/pdfs/Takeaway.pdf 
25.02.14 Minutes of the 19 Feb meeting have now been emailed to financial members & available in the Members Only portal.
06.02.14 Changes to Liquor Laws 2014: click here to download in PDF format
03.02.14 Notice of Meeting, Weds 19 February 2014
Click here to download PDF of notice
24.01.14  Message from OLGR: As you are aware, NSW Premier Barry O'Farrell has announced a comprehensive package of initiatives to reduce alcohol and drug related violence. Information is available from the Office for Liquor, Gaming & Racing website - http://www.olgr.nsw.gov.au/olgr_default.asp > New alcohol initiatives announced
25.11.13 Accord President, Peter Calligeros, urges all licensees to complete the North Sydney Council questionnaire (details below) in regard to changes to late night trading DCP. If you would like to discuss this issues with Peter, click here to email your detailsquestions.
MESSAGE FROM NORTH SYDNEY COUNCIL
Please be advised that North Sydney Council is undertaking a comprehensive review of late night trading activities with the aim to develop contemporary planning controls for the North Sydney Local Government Area. 
As part of the review Council is seeking business, resident, industry and government feedback on late night trading issues.
If you would like to find out more about the review, and complete Council's online questionnaire, visit www.northsydney.nsw.gov.au/tradinghours 
Comments on the review will be received by Council until 20 December 2013.
For further enquiries please do not hesitate to contact Natalie Moore on (02) 9936 8100 or council@northsydney.nsw.gov.au 
09.10.13 Chief Executive ILGA, Michail Brodie will be addressing the October meeting
Click here to download amended notice meeting
Next Meeting of Accord and the AGM: Weds 16 October 2013.
Download notice of meeting
Notice of AGM is in the Members Portal
10.09.12 Message from North Sydney Council re International Fleet Review: Alcohol Managed Areas
IFR will be held in Sydney 3-11 October with the largest day of the events in regards to crowd numbers on foreshores being Sat 5 Oct.
At its meeting on 19.08.13, Nth Sydney Council resolved tha Alcohol Managed Areas be put in place for 5 Oct.
Maps of these zones can be viewed at www.northsydney.nsw.gov.au
22.10.12 North Sydney Council has released details of alcohol exclusion zones for NYE
Click here to download maps
12.09.12 The Accord presented its Youth Education Program at Marist College North Sydney. Thanks to all involved for their interest and cooperation in this most valuable project.
07.09.12 CRIME STATISTICS RELEASED
Click here to read Hon Michael Gallacher Press Release
Click here to read BOSCAR Talking Points
ALERT 21.06.12: RSA & RCG PAPER CERTIFICATES EXPIRE SOON
Licensees are urged to audit their RSA and RCG register to ensure compliance with the phasing out of paper certificates for photo competency cards
Paper certificates issued prior to 1 Jan 2001 expire on 30 June 2012
Paper certificates issued 1 Jan 2001- 31 Dec 2006 expire on 30 June 2013
Paper certificates issued 1 Jan 2007- 31 Dec 2008 expire on 30 June 2014
Paper certificates issued 1 Jan 2009- 31 Dec 2009 expire on 30 June 2015
Paper certificates issued 1 Jan 2010- 21 Aug 2011 expire on 30 June 2016
News 22.02.12
Minutes of meeting have been emailed to members for whom we have email addresses. If you did not receive a copy and would like a copy, pls contact the Accord Secretary info@harboursideliquoraccord.com.au
LOCAL GOVERNMENT ELECTIONS: ARE YOU ENTITLED TO A VOTE IN YOUR LOCAL COUNCIL?
The local council elections are coming up and we remind you that non-resident rate payers are entitled to vote if they are listed on the non-resident ratepayers roll. This roll is not maintained between elections so you will need to register. Contact your council for details
Remember, as licensed venues we are the ones that sell alcohol and as such should have a say on alcohol free zones etc
News 16.02.12
Superintendent Allan Sicard and Inspector David Goddard of Harbourside Local Area Command addressed the February meeting of the Accord.
Minutes ot this meeting will be emailed during week of 20.2.12
News 16/11/11
Thank you to all those who attended the meeting on Weds 16 November 2011. It was considered a very productive meeting and the Committee has been proceeding with the action resolved from the meeting.
Minutes of the meeting will be emailed during week commencing 12.12.11
News 8/12/11
The Harbourside Liquor Accord Incorporated was incorporated yesterday, 7/12/11, and the Committee is currently finalising banking details so the Membership Form can be finalised and Membership OPEN